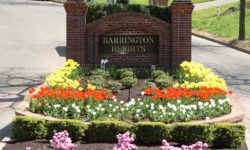 Barrington Heights, in West Linn, Oregon, offers luxury homes in a quiet and secure neighborhood. Views of the Willamette River, Mt. Hood, and the beautiful Willamette Valley are some of the pleasures of this magnificent place that we call home.
All homeowners are members of the Barrington Heights Association of Homeowners. The purpose of the Association is to maintain and enhance the property values in our community. We believe that enjoyment of homeowner property, positive social interaction, as well as consistency of high standards of construction, maintenance and appearance are key factors contributing to high property values. Our Association is managed by a five-person board of elected representatives.
Meetings
We hold all meetings on the first Wednesday of every month (February – December).
Our 2022 Meeting Dates are as follows:
| | | | |
| --- | --- | --- | --- |
| February 2 | May 4 | August 3 | November 2 |
| March 2 | June 1 | September 7 | December 7 |
| April 6 | July 6 | October 5 | |
All meetings start at 6pm. Please visit https://www.barrington-heights.com/ for up-to-date meeting details.
Owners are encouraged and welcome to attend.
If you have not done so already, please visit https://my.managementtrust.com/ to sign-up for an online account with The Management Trust. Please be sure to add your email address under "My Contact Info" to receive email communication from Management.
Committees
We have many neighborhood committees to maintain the vitality of the community and new volunteers are always welcomed. Would you like to participate in the operations of Barrington Heights? Contact Sara Cole for more information.
Architectural Review Committee (ARC)
Common Area Maintenance Committee
Website Committee
Newsletter Committee
Holiday Lighting Committee
Landscape Committee
Directory Committee
Welcome Committee
Social Committee